Jeans are close fitting trousers made of denim or denim-like fabric. They usually have decorative seams that are reinforced with rivets. Jeans typically have pockets that are more for fashion than function. Historically, jeans were work trousers, but today they are part of many women's everyday wardrobe. The colour selection is no longer restricted to shades of blue as ladies can find jeans in pink, white, and many other colours. They can be worn casually, or in some cases dressed up for parties and nights out.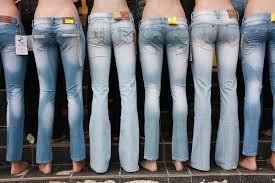 With such a wide variety of jeans available, it is no wonder that many celebrities opt for these garments and choose to wear jeans made by famous designers. Jeans are more comfortable than skirts and dresses and can be worn daily, but they are also very stylish.
Style 1: Skinny Jeans For Boyish and Curvy Figures
Both slim and curvy girls can look great in skinny jeans. Tall and thin girls have the advantage of choosing almost any pair of skinny jeans, while curvy girls may need to take a little bit more care. For girls on the curvy side with wide hips, flatter the best parts of the body by wearing a long floaty tunic and a pair of boots. Opt for darker jeans because they visually slim the legs. Skinny jeans can support the tummy and thighs and produce a slimmer silhouette.
Style 2: Straight Leg Jeans Lengthen Your Body
Straight leg jeans have the same width throughout their length. This cut is the classic style that has been around for many years. Straight leg jeans look great especially on girls with curves or wide hips that they want to show off, because the jeans emphasise the hips and the buttocks. The straight cut lengthens the legs and work well on girls with short legs or who are petite.
Style 3: Flared Jeans Are Great for Everyone
Flared jeans or the boot cut jeans, have a hippy-chic look. These jeans hug the hips and thighs, and flare out below the knee. Boot cut jeans balance the proportions of curvy figures. The high waist tucks in the tummy and gives a slimmer look. Shorter girls can wear flared jeans with heels in order to lengthen the legs.
Style 4: Be Fabulous in Boyfriend Jeans
Boyfriend jeans give a sassy tomboy look and fit loosely around the body. Boyfriend jeans are very versatile and can be worn regardless of the body type. They are known to add volume for slim girls, and to lengthen the legs for short girls. For girls with curves, boyfriend jeans can be worn as loose fitting and comfortable trousers. With their relaxed look, boyfriend jeans are best for casual wear.
Style 5: Tuck Your Curves Into High-Waist Jeans
High-waist jeans cover most of the tummy. This look is beneficial for girls who want to draw in the midsection to create a sexy silhouette. It is much easier to control the tummy in high-waist jeans than in low rise jeans, which can create the dreaded muffin top look.
Style 6: Revive the Eighties With Peg Leg Jeans
Peg leg jeans, also called cuffed or jogger jeans, are tight around the ankles, but wider at the hips, in a similar way to harem trousers. Wearing them can be a bit tricky because they exaggerate the hips, but they also show off slim ankles. The look can be balanced out by wearing a tight top. Peg leg jeans look best with heels. You can wear them with high shoe-boots or with peep-toe heels.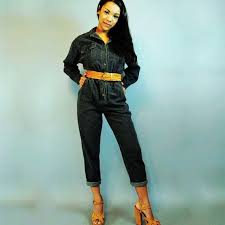 Style 7: Try Printed Jeans
Printed jeans are available in any cut from skinny to a wide legged. When wearing an eye-catching printed jean, choose a monotone top in order to balance the outfit.
Style 8: Do Not Shy Away from Colours
Although blue is still a popular colour, the range of colour choices is vast. Be bold and wear bright colours like, emerald green, or sunshine yellow.
Style 9: Baggy Jeans
Baggy jeans look funny but sometimes wonderful. You should try it one of these days.