Imagine this scenario- a fifteen year old girl standing in front of the mirror and closely observing her face. She is unsure whether or not she is pretty enough. So she stares at herself in the mirror, brushing her hair continuously as she thinks critically of her facial features. Meanwhile, unknown to her, her mother is watching her the entire time until at some point the woman couldn't take it anymore. So she tells her daughter-
"You are beautiful, Ngozi. You are the most beautiful in the world!"
This unexpected interruption startles the girl as she looks to the direction of her mother's voice. And then she chuckles just as she resumes staring at herself in the mirror; skeptically. Indeed, she is not sure she is that beautiful…
In a world crazed by so much unattainable heights of beautiful standards, it is quite difficult for most girls to feel comfortable in their own skins. The several images of what represents true beauty are typically so out of touch such that they are only imagined than realized. Consequently, this lives many girls in doubt of their looks even as most would go extra miles (bleaching for instance) to feel beautiful.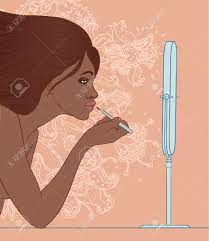 By the way, why is beauty the only characteristic (out of all others) that seems to be so important? Why is society so concerned about it and
[yet] less concerned about say…wisdom or integrity? Why can't we teach our girls to love themselves (no matter how they look in comparison to other girls) instead of making them feel like they must meet some standard? This post is supposed to encourage every girl who has ever felt out of touch (or ugly to be specific) to realize that they are in fact not ugly. Beauty [intrinsically] is and shall remain a subjective thing. Therefore, because most people think Tiwa Savage is beautiful doesn't mean there aren't others more beautiful than her. In other words, there are some people who appreciate your beauty; so why try to measure up to some unattainable beauty standard and then feel horrible about it when you can't? Be happy with your
looks
, please!
That said, please see below the practices that can help you build your self-image and be comfortable in your own skin even if you don't look anything near Yemi Alade:
AFFIRM YOUR WORTH IN OTHER THINGS THAN THEIR BEAUTY. 
DO NOT BEGRUDGE THE "BEAUTIFUL" ONES.
DO NOT BE OBSESSED WITH BECOMING PRETTIER THAN YOU ALREADY.
LEARN TO LOVE YOURSELF!